"What makes Big Joe So Big?"
     "What makes Big Joe so big?  For sure he's a big talent.  Why does every venue in The Valley want Joe Fitz on their stage?  Because he's more than an entertainer, not just a pretty face with a harp in his mouth, not just a first class purveyor of the blues and roots tradition.  It's his soul, large, wide, real, and molasses sweet.  That's what attracts people.  He's one of those rare folks who you feel you are "in the presence of" and better off for it.  He isn't just singing for us.  He sings to the spirit that moves within him, this gentle man."      - Cafe Guide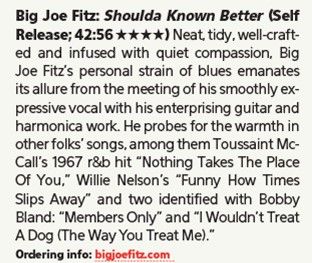 Big Joe Fitz & The Lo-Fis
The place where everbody knows your name, come out for dining, dancing and F-U-N
Big Joe Fitz & The Lo-Fis
Singing, dancing and all the splendor of Mohonk, the Jewel of The Hudson Valley. Voila!