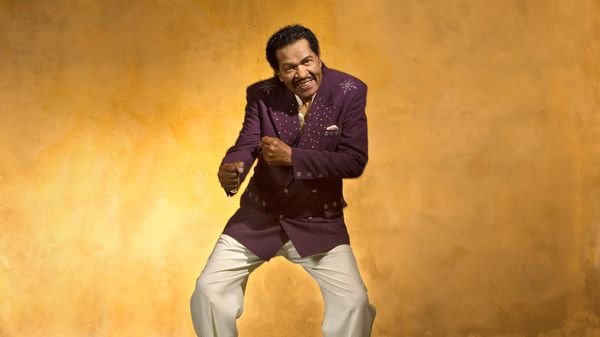 Bobby Rush won The Grammy Award a few weeks back for his album Porcupine Meat.  As is often the case the mainstream music industry is a little slow on the take when it comes to Blues and other types of 'outsider' music. Nonetheless kudos to the voters for recognizing this living legend who is still going strong at the seemingly impossible age of 83.  The Bobby Rush Revue is a throwback to the days of The Chitlin' Circuit, and even further to the days of travelling tent shows.  His live show comes complete with outfit changes, dancing girls, props, comedy, and of course a smoking R&B band that takes no prisoners.  "The King of The Chitlin' Circuit" has been plying his trade for more than 60 years now and it's a pretty safe bet to say that we won't see his like again.
      A few years back when we were hosting 'Blues On The Mountain' at Mohonk Mountain House we were very fortunate to have Bobby Rush with us for an intimate/acoustic show.  What a treat that was, and Bobby Rush was as friendly and as engaging as you could ever want. [nb the man is always known by his first AND last names, so... 'Bobby Rush' becomes pretty much one word].  Big Thanks to Elizabeth Schmidt (formerly Moroney) for that booking coup, and for the whole 'Blues On The Mountain' Series...more about that in a future post.
      I bring all this to your attention because if you are in the Tri-State area (NY-NJ-PA) or within reasonable driving distance your opportunity to catch Bobby Rush live is at hand.  He appears at a most unlikely venue: The Villa Roma Resort in Callicoon NY on Friday Night March 24th as part of Michael Cloeren's 'Bluzin' In The Catskills' Event.  I'm no longer on the radio anymore but I do present this to you as kind of my own personal PSA (public service announcement).  As noted earlier, he's a one of a kind living legend, he's 83 years old (although he carries himself like a man 20 or 30 years younger), and we won't see his like again.  Your move my friends..